Reimagine Data Warehousing -Moving from complex analytics to actionable insights with Google BigQuery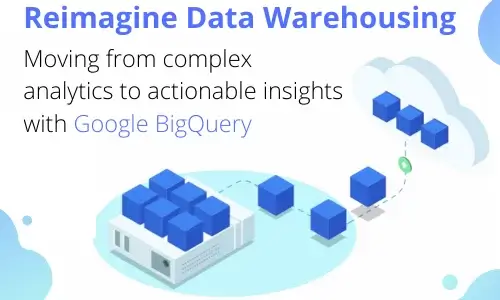 The world is generating more data than ever. By 2025, the world datasphere will be 175 zettabytes! However, according to a recent survey, about 69% of companies report that they have not created a data-driven organization, and 71% report that they have yet to forge a data culture – leading to a lot of data analytics remaining untapped.
Google Cloud is perfectly positioned to help organizations modernize their data analytics strategy. At the heart of Google Cloud's smart analytics platform is Google BigQuery. As traditional data warehouses melt under intense data growth – users can easily modernize their warehouse and make intelligence actionable with Google BigQuery.
Serverless. Decoupled storage and compute for maximum flexibility – in this whitepaper discover how BigQuery provides organizations with accessible insights by bringing together siloed data sources into one platform using connectors, assign read-only access to users, use familiar BI tools to query with ease and much more.
Get your case study today!