USEREADY NOMINATED FOR SERVICES & TRAINING PARTNER OF THE YEAR AND ALLIANCE PARTNER OF THE YEAR AT THE TABLEAU PARTNER SUMMIT 2017
New York — Jan 25, 2017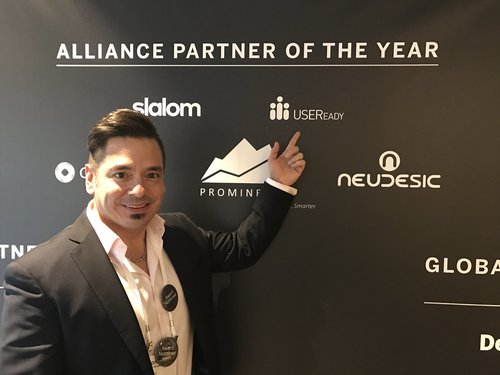 Every year Tableau, the global BI leader, recognizes and rewards their notable partners at the Tableau Annual Partner Leadership Summit. It is a matter of pride, that USEReady was nominated for Tableau's Services & Training Partner of the Year and Alliance Partner of the year 2016.
The winners of all eight categories rolled out by Tableau for 2016, were announced at the annual partner summit in Seattle, Washington from 23 – 25 January 2017.
It is an honor to be nominated alongside some great organizations in North & South America. USEReady was nominated for the following categories among some great innovators of the data world.
1. North & South America Services and Training Partner of the Year 2016
Other Nominees – Charter Solutions, Decisive Data, InterWorks, Inc
2. North & South America Alliance Partner of the Year 2016
Other Nominees – Grant Thorton LLP, Neudesic, LLC, Prominance Advisors
The results were made public by Tableau on JANUARY 25, 2017.
Last year USEReady won the 'Services Partner of the Year 2015' title – at the Tableau's Annual Partner Summit in Austin, Texas.
USEReady has been a longstanding partner of Tableau and constantly strives towards dedicated propagation of Tableau's capabilities. "Tableau's growth & strategy is based on the deep relationships with our partners and USEReady is at the top of that list," said Brian Nutt – VP of Global Professional Services at Tableau, during his recent visit to USEReady India office.
Tableau has been the core of USEReady's strategy and success. In a recent article on Inc.com Uday Hegde, CEO and Co-Founder USEReady, mentioned how Tableau is gaining popularity in helping businesses implement effective BI strategy, and how USEReady helps businesses in its deployment. In another conversation with The Huffington post Uday highlighted how companies can extract value from their data using Tableau.
Tableau is constantly perceived as the modern BI market leader and has been making its way up on the Gartner Magic Quadrant for Business Intelligence and Analytics for 5 years in a row now. Such laurels are a source of motivation for USEReady to keep innovating with Tableau to add value for our customers and the data community.
About Tableau
Tableau (NYSE: DATA) helps people see and understand data. Tableau helps anyone quickly analyze, visualize and share information. More than 50,000 customer accounts get rapid results with Tableau in the office and on-the-go. Over 300,000 people use Tableau Public to share public data in their blogs and websites. For more information visit www.tableau.com
About USEReady
USEReady's mission is to help organizations succeed by fast tracking their business performance. We relentlessly strive towards value-driven innovation and digital transformation using advanced business intelligence, data management, and infrastructure security solutions. Our global delivery orientation is enriched with winning strategies, rich industrial and technology expertise and customer fanaticism. Our proven track record of success in versatile domains such as capital markets, insurance, healthcare, pharma, retail, media etc. is a testimony to our performance. For more information visit www.useready.com