3 WAYS BIG DATA AND BI ARE CHANGING FOR BUSINESS OWNERS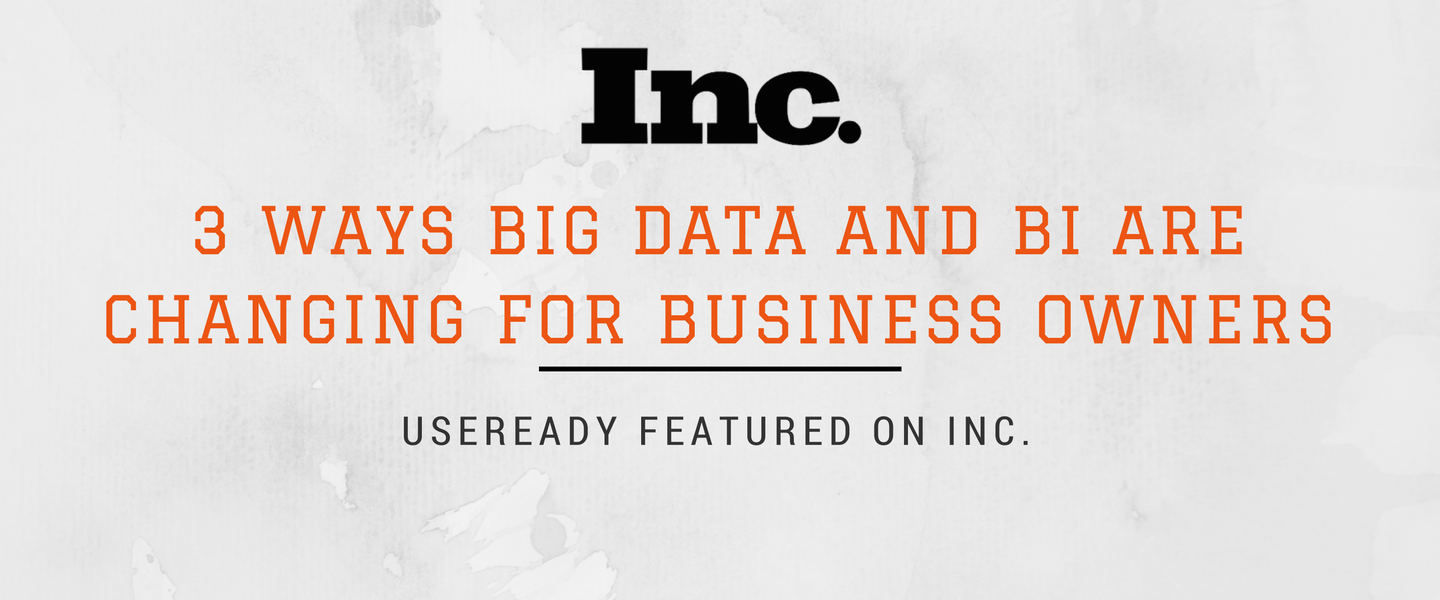 IF YOU'RE INTO BIG DATA, YOU'LL WANT TO KNOW THESE TRENDS FOR 2017
THIS POST ORIGINALLY APPEARED ON INC.COM BY DREW HENDRICKS
Big data is not a new concept; it's been around since the 90s. Few technology trends last more than a few years, let alone several decades, so it is important to take a look at why big data continues to be a force in the technology sector. The reason is that data is a core function of everything we do. From day to day decision making, all the way to major business decisions, we use information to help us evaluate which step is the right one.
That is why big data has driven growth in business intelligence, or BI, as every business needs a plan for how it will engage with the data it collects. BI initiatives are always evolving as technology improves and more people learn how to use it.
BI emerged when big data tools became easier to use for non-IT professionals and therefore increased in value. More and more companies are catching on to the impact these tools can have, creating a bustling ecosystem of apps, consultants, and hardware working to support BI initiatives. A.T. Kearney research found that spending on big data hardware worldwide may grow at a compound annual growth rate of 30% through 2018. That kind of growth indicates unprecedented demand and a shift in the way businesses are approaching data.
Firms that employ these technologies have the potential to gain a significant competitive advantage in their market, and as Jack Welch, former CEO of GE famously said, "If you don't have a competitive advantage, don't compete!" The following are three ways business intelligence is helping business owners engage with data to be more competitive:
GROWTH IN SELF-SERVICE BUSINESS INTELLIGENCE
Self-service business intelligence is the new wave of BI innovation that is changing the way organizations leverage data for decision making. Uday Hegde, CEO of USEReady, a firm that helps businesses leverage big data and BI technologies, shares why business leaders struggle to implement BI, " The problem is driving adoption in a large organization, as the data needs to be something each stakeholder can make use of. That's why we have to work to give people a comprehensive solution to help measure the success of their BI efforts."
That challenge is the reason why self-service tools like Tableau are gaining popularity, and why firms like USEReady can help businesses deploy them. Every organization needs to determine how data will be processed and managed, often called 'data governance'. There are plenty options for how data will be used but historically companies have opted for a department to manage data, a centralized approach, or allowing individual departments to manage their own data, a decentralized approach.
Hegde explains, "Most organizations struggle with disparate data sources because they take either a centralized or decentralized approach. Many of them are realizing that the key success factor is to take a 'hybrid' approach to data governance. In our experience, companies are looking for advisors with expertise across multiple data platforms, whether semi-structured or unstructured."
This is why a growing number of businesses are allocating funds to these initiatives. In fact, Gartner predicts that by 2020 enterprises will invest 40% of their net-new BI investments in prescriptive and predictive analytics services.
AGILE BUSINESS INTELLIGENCE
A growing number of businesses are realizing that BI is crucial for decision making, but more importantly, they are working to make that information agile. Carly Fiorina, the former CEO of HP, shared that the point is to "turn data into information, information into knowledge and insight, and knowledge into competitive advantage, and to do it in a matter of minutes or seconds, not days or weeks."
Agile Business Intelligence is the automation of different BI practices to help simplify how BI professionals can update information for new queries and projects. Research from Forrester found that organizations are only making use of "40% of structured, 31% of unstructured, and 27% of semistructured enterprise data." Increase those percentages and an organization could significantly improve decision making.
Forrester recommends that business intelligence providers, and the businesses that use them, should focus on how BI tools enable the user to use data independently. At the same time they should help with creating data visualizations to help them share insights across the entire organization.
INCREASED DEMAND FOR MOBILE DATA
Mobile analytics made the cut for Tableau's top BI trends since some platforms are beginning to provide better mobile interfaces. As mobile continues to dominate the technology sector, it is no surprise that people are starting to look for mobile solutions for business intelligence.
For companies that rely on remote workers or teams spread across great distances, mobile analytics are even more important. Most professionals can think of a time they were traveling, or out of office, in need of critical data that wasn't accessible from wherever they were. Mobile first BI apps like Tableau, QlikView Mobile, and Yellowfin are all competing for customer share, which will result in better mobile products for BI end users.
The timing for this growth is ideal, as a recent study from Better Buys found that 42% of companies plan on leveraging mobile BI solutions in the near future. Having access to BI on your phone means you can be connected to important data at all times. But because of the mobile interface, BI providers will need to make data more visually appealing so non-technical users can understand it more readily.
As these changes continue to shape the future of big data and business intelligence, organizations will be faced with the challenge of deciding what technologies, and what providers, make the most sense for their operations. Leveraging the right tools could have a significant impact on everything from expense management to operational efficiency, so care and research are necessary qualities in the search for any BI tools.
The opinions expressed here by Inc.com columnists are their own, not those of Inc.com.