Tableau at the speed of Amazon EC2 | Getting the most out of your Tableau Server in AWS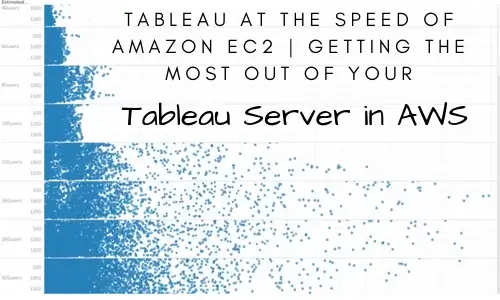 You've purchased Tableau Server and decided to run it in Amazon Elastic Compute Cloud (EC2) environment. Now, all you need to do is choose a good fit to support anticipated workload of Tableau content and user community. As you explore the options, you realize that the array of choices is both stimulating and perhaps a little intimidating. Many of the choices (EC2 instance types) could work well, but how do you get a good sense of what is likely to work optimally for your needs?
This is where Tableau can be your guide as well as the goal of your deployment. Why? Because everything in the cloud can be measured, creating data. Tableau helps people see and understand their data. Therefore, Tableau is your guide to maturity in Amazon Web Services (AWS), starting with the performance of Tableau server itself.
Discover how by using a free load testing solution called Tabjolt, you can test Amazon EC2 instance types, collect the data, and analyze it, equipping yourself with key information for selecting Amazon EC2 instance.
Get your case study today!