Modernize Your Microsoft Applications on Amazon Web Services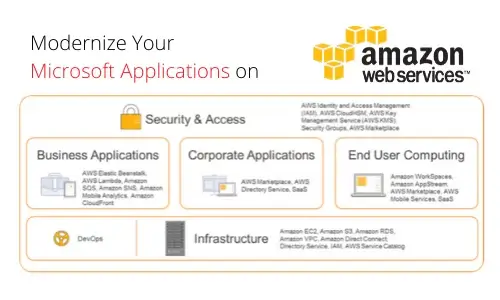 "The cloud is now the center of the most enterprise IT strategies. Many enterprises find that a well-planned "life and shift" move to the cloud results in an immediate business payoff. Organizations today can improve their security posture, application performance and reliability by running corporate applications built on Microsoft Windows Server in the AWS cloud.
According to a recent survey – 65 percent decision makers said they planned to increase their use of AWS either to move existing applications or to expand applications already running on AWS. Clearly, businesses are already making the move to modernize their Microsoft applications. For many IT organizations, application modernization is a major initiative for a few major reasons:
• Move off legacy software
• DevOps initiative
• Mobility initiative
• New product launches
• Mergers and acquisitions (M&A) activity
This whitepaper is intended for IT pros and business decision makers in Microsoft-centric organizations who want to take a cloud-based approach to IT and must modernize existing business-critical applications built on Microsoft Windows Server and Microsoft SQL server. This paper further covers the benefits of modernizing applications on Amazon Web Services (AWS) and how to get started on the journey.
"
Get your case study today!