Pixel Perfect
Create high-precision, well-formatted, print-ready reports for audit, compliance, and ad-hoc reporting, from within Tableau dashboard.
REPORTING REDEFINED:
WHY CHOOSE PIXEL PERFECT
Successful organizations today realize that adopting a 'modern BI platform' philosophy serves them much better – promoting agility, accuracy, and ease of use across the organization. Tableau is an easy choice for most organizations, as it hits most of the checkboxes.
However, enterprises find themselves still relying on legacy BI tools such as Business Objects, IBM Cognos, Oracle OBIEE, Hyperion, Microsoft Excel, Crystal Reports, SSRS, etc. just to support a very niche yet an important requirement, i.e. to create perfectly formatted reports for audit, compliance, and ad-hoc reporting.
Export Tableau Dashboard - Now, with Pixel Perfect You Can
Create canned reports in the desired format from within Tableau
Retire legacy reporting tools
Save money, manpower, time and effort needed to maintain legacy environment
Increase the efficiency of the reporting process
Increase Tableau adoption to promote a culture of self-service
How It Works
Easily create reports at the click of a button
Step 1
Enable the Tableau dashboard with the Pixel Perfect extension
Step 2
Explore the dashboard like you would conventionally do, to seek the necessary information or insights
Step 3
Click Pixel Perfect Report Icons (export button) to generate canned reports in your preferred output format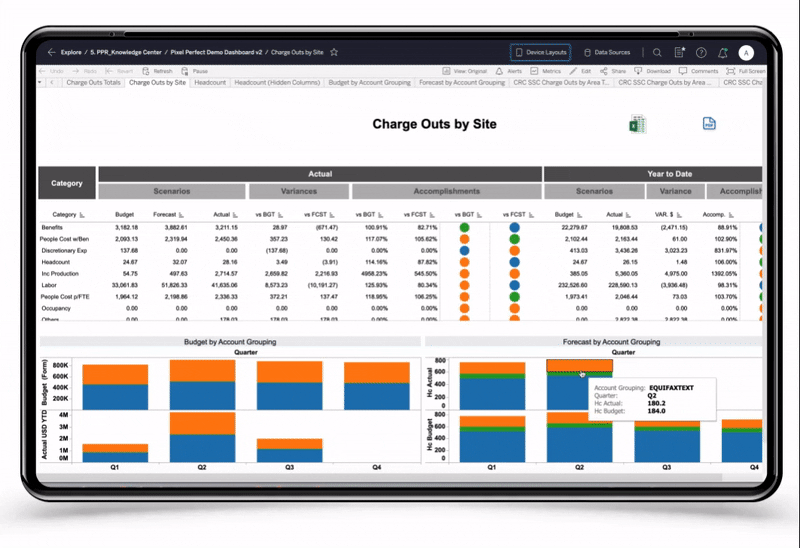 Features
Generate
reports the
way you need
it, when you
need it
Format the way you want
Create reports with headers, footers, pagination, page numbers, images, tables, listings, etc.
Export data and dashboards in all popular formats
Choose from various formats PDF, MS PPT, MS Word, MS Excel File, CSV File, HTML, JSON, etc.
Distribute and schedule with ease
Distribute report via email or save it on network-drive, either by scheduling it or on an ad-hoc basis.
Print Friendly
Pixel Perfect reports are ready-to-be-printed for both internal and external audiences.
Fully Customizable Output
Choose what information you need exported, by applying filters, selecting across views, etc.
Zero learning curve
Users can generate formatted reports through Tableau's all too familiar UI.
Tableau to Excel File Format
Create perfectly formatted XL with KPIs, charts, tables, cross tab information, customized column-order, and unlimited number of columns.
Tableau to PDF File Format
Export well-formatted, print-ready PDF reports, with logo, organization name, header, footer, page numbers, charts, graphs, data tables, etc.
Tableau to PowerPoint Presentation
Produce PPTs that are dynamic in nature and more than 'screenshots'. Retain your brand look and feel or customize as per your specific use case.
Featured Business Use Cases
Healthcare, Pharma, Biotech, Life Sciences

Getting Started

Pixel Perfect On-Demand

Hosted service for Pixel Perfect
Generate reports as and when needed
Works with both Tableau Server and Tableau Online

Pixel Perfect Server

On-Demand Plus
Schedule, distribute reports to a network file storage, FTP or email
View, download and subscribe to reports for which they are authorised

Supported Tableau Platforms

Tableau Online

Hosted online by USEReady and integrated with your Tableau Online Account

Tableau Server

On the premise hosting alongside your tableau Server

Editor's Pick: Crosstabs, Tableau and Pixel Perfect

Structure Crosstab Charts from Tableau into Formatted Reports with Pixel Perfect

By leveraging Pixel Perfect, users can export Tableau reports in a print-ready format from within Tableau as and when required, in a matter of seconds. Crosstabs can be outputted to well-formatted reports based on business requirements without users having to spend additional time and without having to leave their Tableau environment.

Get in touch to schedule your 1:1 demo or any other query