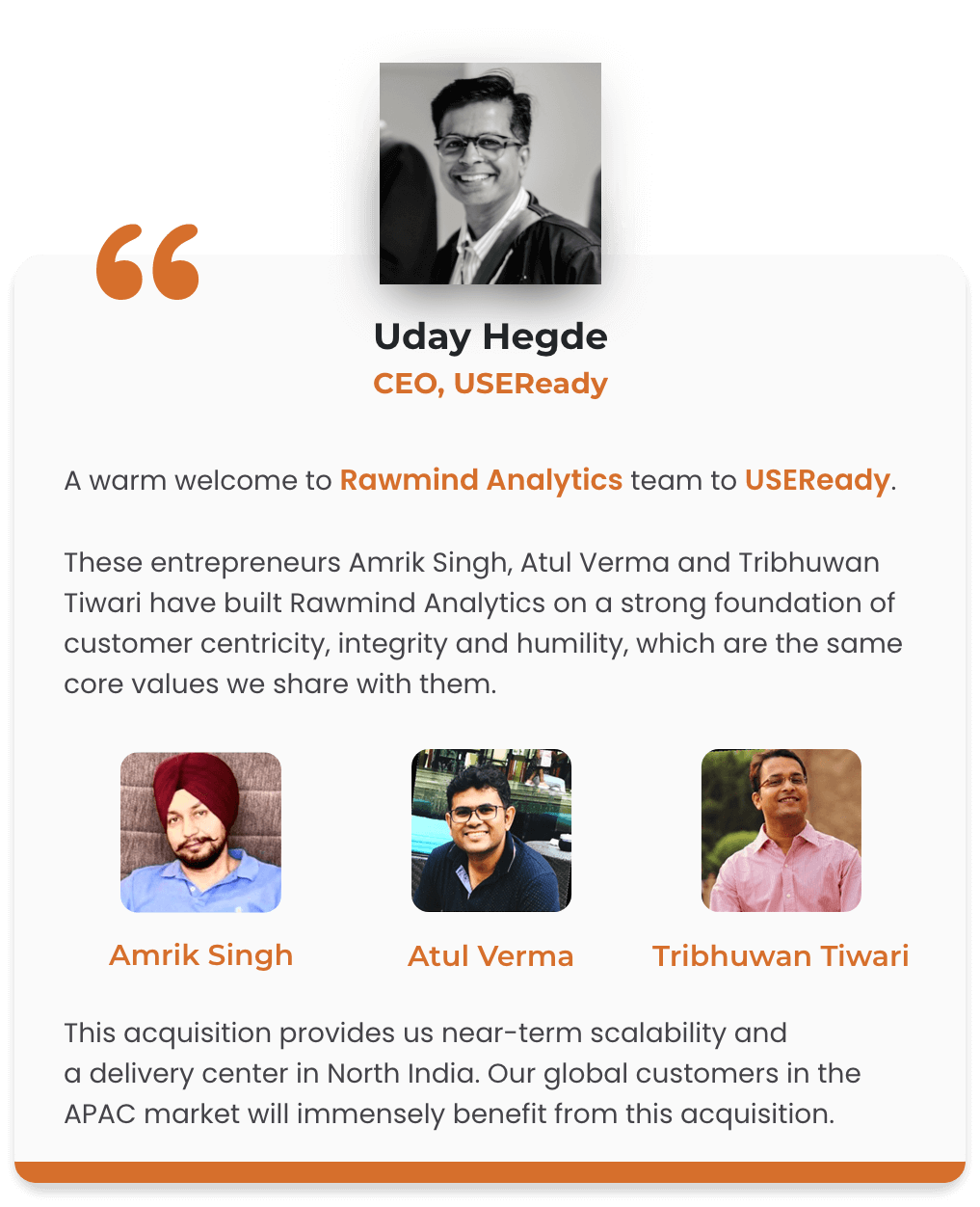 New York-headquartered Data Analytics firm USEReady completes acquisition of Gurugram, India based Rawmind Analytics. This acquisition strengthens USEReady's Business Intelligence and Cloud practices to meet the growing demand from US and APAC markets.
New York City, NY July 10, 2020:
USEReady, a New York-headquartered Intelligent Transformation firm today announced that it has acquired Rawmind Analytics (www.rawmind.in) based in Gurugram, India. As of part of this acquisition, founders of Rawmind Analytics Atul Verma, Amrik Singh, and Tribhuwan Tiwari would be joining USEReady.
"USEReady founded in 2011 as a BI Analytics provider has expanded into Cloud Integration, AI and Salesforce during the last 12 months. Aided by this practice expansion, USEReady is on track to post 40% year over year growth despite difficult global market conditions. While this acquisition provides the near-term scalability, value synergy between the two organizations drove this deal. Entrepreneurs Atul, Amrik, and Tribhuwan have built Rawmind on a strong foundation of customer-centricity, integrity, and humility, which are the same core values we share with them. USEReady serves several global customers in the APAC market, all of whom stand to benefit from this acquisition. This also provides a new delivery center in North India for us" said Uday Hegde, Co-founder & CEO at USEReady.
"Amrik, Tribhuwan, and I quit our corporate jobs to taste the challenge of entrepreneurship. Our early interactions with USEReady leaders Arun Prabhakara, Akhil Manchanda, Uday Hegde, Lalit Bakshi, and Biswambhar Kar motivated us to be part of USEReady's bigger vision. USEReady offers us global market access along with an opportunity to drive intelligent transformation at Fortune 100 customers. At USEReady, we are excited about the future journey that is in store for us" said Atul Verma, Co-founder at Rawmind Analytics.
Additionally, USEReady has announced new leadership hires to lead the expanded growth and operations. Senior HR leader Jenifer Walden has joined as SVP HR. Jenifer brings a wealth of experience from Valley Bank, Prudential, and EY. Sales leader Greg Kinney has joined as SVP Sales. A seasoned sales leader Greg has prior experiences with Silverline, Appirio, and Bluewolf. Chris Roberts has joined as Practice Unit Head to lead Salesforce practice. Chris has previously led Salesforce initiatives at Appirio, and Highpoint Solutions.
"USEReady is uniquely positioned to make a major move in the market during this unprecedented time. The dynamic leadership team is acquiring talented leaders to grow the business while supporting an incredible culture. As USEReady grows, HR will be designing strategically significant programs to further engage (team members or associates) and develop leaders to their full potential. It's an exciting time to be part of USEReady; I am honored to be part of the team" said Jenifer Walden, SVP HR at USEReady.
"Over the last decade, we have built a foundation that enables us to venture into verticals and geographies at scale. While growing our core business of data analytics, we are also investing heavily in Augmented Analytics. The worlds of AI, BI, ML, and Data Science are converging. With a clear race to acquire talent – are looking for synergistic and smart acquisition opportunities along the way" said Lalit Bakshi, Co-founder & President at USEReady.
About Rawmind Analytics
Rawmind Analytics was founded in 2015 by entrepreneurs Atul Verma, Amrik Singh, and Tribhuwan Tiwari with a purpose to enable data solutions to provide strategic insights that facilitate business growth. Rawmind Analytics has emerged as the most trusted solution partner in India delivering Business Intelligence, Analytics, and Data solutions.
About USEReady
USEReady is an intelligent transformation company focused on data analytics, cloud integration, AI, and Salesforce. The company's mission is to help enterprises be successful with data. USEReady's unique approach to intelligent transformation adopts a blended offering of consulting, smart solutions, and cloud transformation. USEReady focuses on Financial Services and Insurance verticals in the North American market Since 2011 – empowered with associates that have delivered great success in Financial Services, Insurance, Retail, Media, and High Technology verticals.
For more information visit: https://www.useready.com