Migrator IQ – A Comprehensive Data Migration Solution
Automate and streamline migration process with accelerators, followed with a proven framework to successfully deliver scalable Legacy to Modern BI Migrations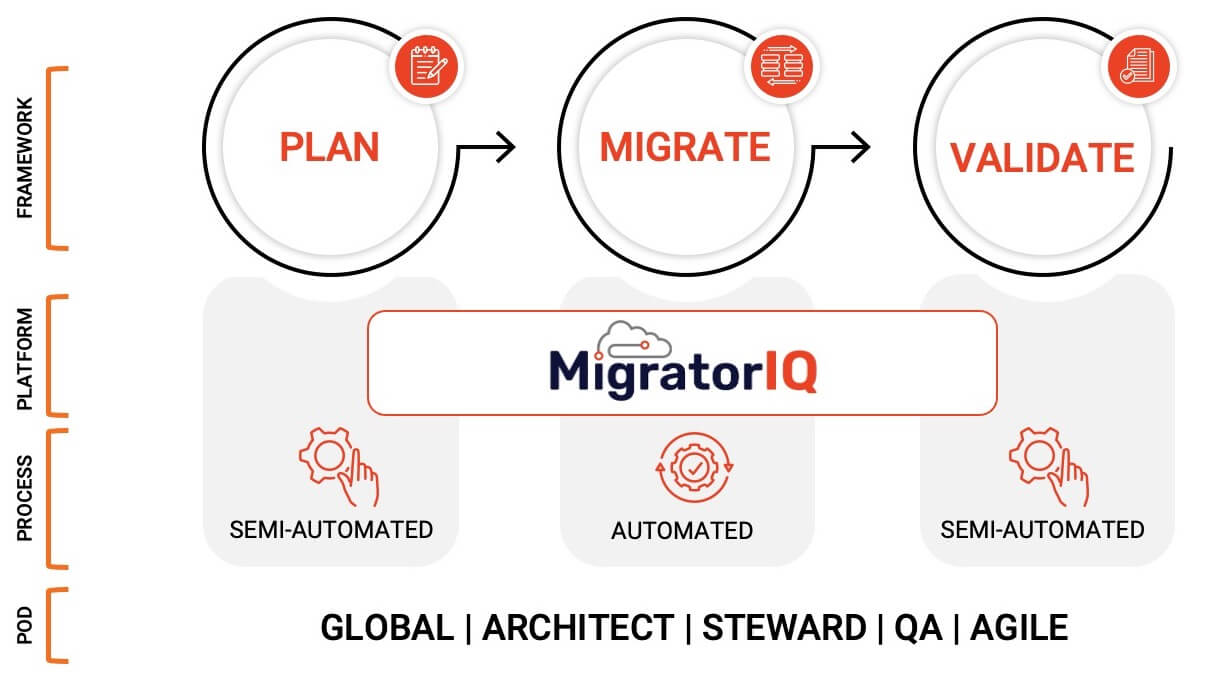 Industries we serve
BFSI
HLS
Advertising
Manufacturing
Airlines
High Tech
Communication
Here's why you need MigratorIQ
Many legacy BI migration projects overrun on time, or exceed their forecasted budget, because of faulty migration approaches, manual labour-intensive processes, legacy complexity, and associated risks. USEReady's MigratorIQ addresses these challenges and automates migration process from legacy to modern BI platform with the help of accelerators and "Plan-Migrate-Validate" framework. MigratorIQ supports migration from legacy BI tools like QlikView, SAP BO, and Hyperion to Modern Data Stack and reduces the migration cost significantly.
How it Works?
Accelerating Enterprise' BI Modernization Journey

Key Features
Automated Effort Estimation
Cloud Native
Templated Reports
Complexity Determination
Automated Metadata Generation
Serverless Architecture
Framework Based Plan-Migrate-Validate
Automation Migration Accelerators
Fast Migration 35-54% Migration TAT Improvement
Precise Estimation & Planning
27-48 % Reduction in Migration Cost
Scalable for Large Migrations
Predictable Outcomes Low Manual Intervention
Technical Expertise Source – Target Mapping
Success Stories
Fortune 500 Fintech

Migrated 1000+ FI-specific Cards related custom reports, while retiring Hyperion

Automated Reconciliation of Brio reports with dependency trace
Metadata mapping for report creators
Smart recognition for report attributes
Pixel Perfect for Formatted Excel, CSV
FI Analytics portal with Embedded Line of Business Analytics (Card/Credit, Debit, Loyalty, Fraud, etc.)

Outcomes

70% expedited migration time by accelerators
FI Customers were quickly able to access the new Analytical Platform

Migration of ~800 business-critical reports, by retiring Hyperion

Migration of business-critical Revenue Pipeline reports for Sales and Marketing
Worked with VP Analytics to identify and prioritize business needs
Our accelerator automated creation of source reports/objects inventory, identifying complexities, and de-dupe/consolidate reports using clustering
Accelerator output helped prioritize and plan the migration with Client, and de-risk
Established an effective Change Management process with Client and BI vendor

40% ▼ reduction in migration effort/time by accelerator; 30% optimized target reports count
Get in Touch
Please fill out the details to schedule your 1:1 demo or any other query
We use cookies and similar technologies to enable services and functionality on our site and to understand your interaction with our service. By clicking on accept, you agree to our use of such technologies for marketing and analytics.
See Privacy Policy
Privacy Preference Centre for Cookies
When you visit any web site, it may store or retrieve information on your browser, mostly in the form of cookies. This information might be about you, your preferences or your device and is mostly used to make the site work as you expect it to. The information does not usually directly identify you, but it can give you a more personalised web experience. Because we respect your right to privacy, you can choose not to allow some types of cookies. Click on the different category headings to find out more and change our default settings. However, blocking some types of cookies may impact your experience of the site and the services we are able to offer.
These cookies are necessary for the website to function and cannot be switched off in our systems. They are usually only set in response to actions made by you which amount to a request for services, such as setting your privacy preferences, logging in or filling in forms. You can set your browser to block or alert you about these cookies, but some parts of the site will not then work. These cookies do not store any personally identifiable information.
These cookies enable the website to provide enhanced functionality and personalisation. They may be set by us or by third party providers whose services we have added to our pages. If you do not allow these cookies then some or all of these services may not function properly.
Submit your details